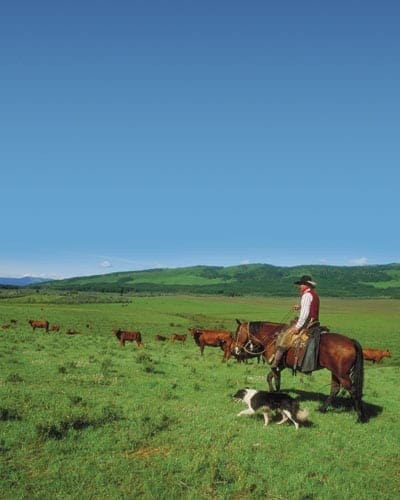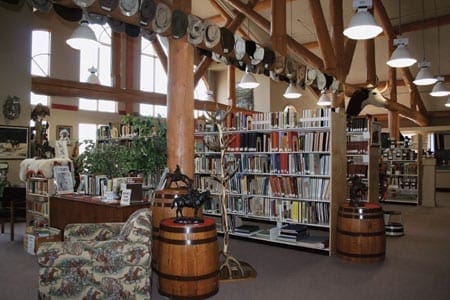 Welcome to the Stockmen's Memorial Library!
The Stockmen's Memorial Foundation was officially organized in 1980 by fifty founding members comprising of ranchers, farmers and individuals who wanted to commemorate the Canadian livestock industry.
The organization was incorporated as a non-profit association and was established as a foundation by an act of the Alberta legislature. It is also approved as a charitable organization by Revenue Canada.
Objectives of the Stockmen's Memorial Foundation are:
to identify, honour and remember the builders of the livestock industry and others who have made outstanding contributions to its progress
to provide historical and business information relating to the livestock industry
to familiarize the public with the lore of the cattle industry
to encourage a general appreciation of the sociological and economic significance of the livestock industry.
The Bert Sheppard Stockmen's Foundation Library And Archives is located in the Cochrane RancheHouse, 1/2 km north of Cochrane, Alberta on Highway 22. The Library is open from Tuesday to Friday 9:00 am to 3:00 pm, and Saturday to Sunday 10:00 am to 4:00pm. Please check our social media pages for special events.
This Reference Library was established in 1980 by the Stockmen's Memorial Foundation as a unique Non-Lending Library. You are encouraged to come and browse in our comfortable surroundings, to research, or simply enjoy looking through the materials.
You can find:
13,000+ books related to western culture from Manitoba, Saskatchewan, Alberta, and British Columbia, including a complete collection of Brand Books for Alberta from 1888 to the present as well as some from the other provinces.
6,000+ magazines on such areas as Ranching, Rodeo, Horsemanship, Veterinary Science, History, Royal Canadian Mounted Police, and many more…
Videos: "Heritage Voices" This is a collection of over one hundred early pioneers who were videotaped by Stockmen's volunteers. Such pioneers as Nettie Ware and Ed McKinnon are but two representatives of this once-in-a-lifetime collection.
Photo File: this consists of Rodeo and Western-related topics.
100+ audio tape cassettes of interviews and tales of the West as told to the noted author Sherm Ewing. The entire transcripts of these tapes have been deposited in the library.
Canceled brand files. This Project came to the Stockmen's Memorial Foundation in the late 1980s – It involves numerous boxes containing the original files of brand requests from 1888 to the 1980s. NOTE: only canceled brands are in this collection. This information is especially of interest to those tracing family history.
Sheet music, maps, pamphlets, and rodeo programs.
IMPORTANT: This information cannot be faxed or sent by E-mail.
A fee is charged for services and photocopies.
Erik Butters – President

Don Hepburn – Treasurer

Jane Mason – Secretary

Bill Bateman – Director

Jim Burns – Director

Reiny Kristel – Director

Ian Airth – Director

Dan Hawkwood – Director
Bill Janzen – Director

Jessie Pepin – Director

Trina Lowe – Director

Jolene Airth – Stockmen's Administrator

Scott Grattidge – Executive Director

Kelly Klyne – Bookkeeper